Modernize Your Work Productivity with AntMyERP's
Documents & Templates
Welcome to our carefully selected collection of tools that are specifically designed to make your work much simpler, improve teamwork, and take your business documentation to the next level.
It's always a good idea to have document template software in place instead of starting from scratch every time you create a proposal or contract. Here at AntMyERP, we truly recognize the significance of creating effective documents and templates.  
Using HR document management software can be a real time-saver! It comes with pre-made documents and templates specifically designed for field service management. You can easily customize these templates to fit your unique needs.
Access a Diverse Library of Templates and Documents
One great advantage of having AntMyERP's HR document management software is that it makes it much easier for employees to access documents. This not only saves time but also helps to increase productivity. Document template software is really useful for medium to large-sized companies that handle a lot of incoming and outgoing documents at the same time. It's important for these companies to keep their documents consistent and compliant, which is where the software comes in handy. 
AntMyERP makes it super simple to handle multiple documents and templates all in one convenient place. With our platform, you can easily upload and download documents in various formats, like JPEG and PDF. You can store these documents in the repository for future use.
Learn More About Documents and Templates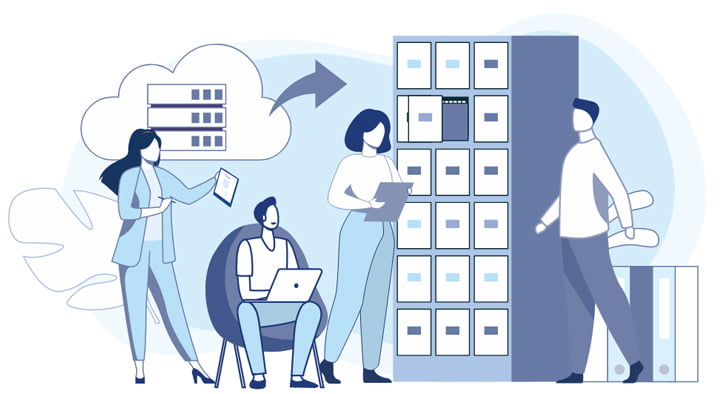 Store And Share Multiple Documents
Another great thing about AntMyERP's HR document Management Software
is that it indexes all the uploaded documents. This makes it super easy to track and share them with others. Our software keeps a record of all the documents you upload, and they cannot be deleted. 
This feature is really helpful in maintaining security and avoiding accidental deletions. Since employees from different departments across the company can access and utilize these documents, it ensures that everyone benefits from them. You can easily edit or create documents and share them for easier access. This includes things like quotations, annexures, advertisements, emails, terms and conditions, SMS, and more. 
There are several important industries that can greatly benefit from using document template software and relying on such services. These industries include logistics, healthcare, accounting, and more.
Benefits of Documents and Template Software
AntMyERP offers HR document Management Software that can help you create more polished and error-free documents.

Compliant Documents
When manually compiling a document, it becomes the sole responsibility of one employee to ensure that the document meets all the necessary standards. This includes checking elements such as the logo, text, style, layout, and more. With AntMyERP document template software, you can say goodbye to that worry! Our best HR document management software guarantees consistency and compliance by keeping everything organized in one central system.

Centralized Portal
Developing a centralized platform for documents and templates is a great idea that can benefit businesses of all sizes. AntMyERP's Best HR Document Management Software is designed to make it super easy for you to find and locate documents on the portal. No more wasting time searching through a ton of files stored in different employee systems.
This feature helps save time and allows employees to easily access information without having to constantly communicate with management.

Effortless Document Creation
The demands of digital business have undergone significant changes in recent years, and this has also affected the way we document things traditionally.
Our AntMyERP document and template software is designed to make your life easier by managing multiple documents on one platform. Say goodbye to error-prone and time-consuming manual work! This really helps you save time and improve accuracy.
Unleash the potential of organized, stylish documents and templates with AntMyERP's Documents & Templates
Get in Touch!
Go Up