Service ERP with
Customer Support Knowledge Base
Say hello to Customer Service Knowledge Base Software! 
It is a digital version of a resource centre for all your team members to get going wherever they are stuck midway in any service task.
Let your field service providers act immediately on a problem with prompt guidance on the Customer Support Knowledge Base Software, now easily accessible through smartphones. Prompt guidance means no more delays in taking action, elimination of additional costs, and interrupted performance while performing Preventive Maintenance or handling Breakdown service calls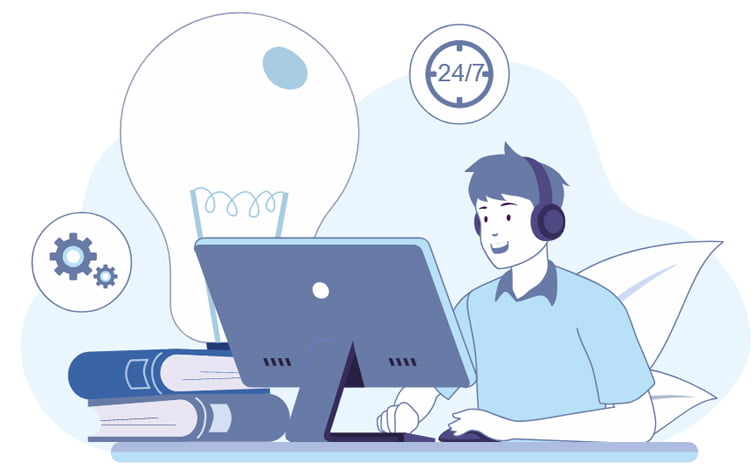 Customer support knowledge base software for field service
A customer support knowledge base can be a valuable resource for field service engineers in a number of ways:
Access to information: A Field service knowledge management can provide field service engineers with access to information that they may not have been trained on, such as specific product features or troubleshooting steps. 
On-demand support and information: Field service knowledge management can be accessed at any time by field service engineers to find answers to questions or issues they encounter while in the field, saving time.
Training support: Field service knowledge management can also be used as a training resource for new field service engineers, providing them with access to best practices and standard procedures.
Improved customer satisfaction: By leveraging Customer support knowledge base, field service engineers can improve their ability to resolve issues quickly and accurately, resulting better customer satisfaction.
Customer service knowledge base software for Help desk Team
Creating a comprehensive customer service knowledge base is essential for any help desk team to provide effective and efficient customer support.
With a help desk knowledge base, Help desk teams can quickly provide solutions to customer problems on phone without needing technical expertise. This saves time and resources for all the stakeholders thereby increasing faster resolution time.
The updated Help desk knowledge base can reduce the number of support tickets generated, allowing the help desk team to focus on more complex issues.
Normally, 30% of customer service calls can be solved by field service knowledge management tools.
In conclusion, help desk teams can optimize their performance and deliver exceptional customer service.
Benefits of customer support knowledge base software
We thinks and sympathizes with every person who fails at performing well because of a lack of knowledge. That's why we design field service knowledge management that take care of all members of an enterprise.

Improve field technician knowledge
With our Technician Mobile Apps, the field technicians can have access to the field service knowledge management for any service ticket assigned to them. They can see the history of the service calls. Even they can see the video or documents related to customer service and take corrective action
Even though they may not have been trained on specific product features or troubleshooting steps, they are confident and experts to solve customer problems.
Increasing field technician productivity, confidence and self-image in the eye of the customer.

Reduce technical training cost
An organisation can handle bulk work by utilising our field service knowledge management systems. All the field service teams will be assigned the service tickets with all the knowledge base so that the field staff can follow the procedure and create customer satisfaction.
An organisation can save huge training costs by utilising the customer support knowledge base software by regularly updating the same with documentation, images and videos. It can also contain product service manuals and safety checklists to empower the field service team.

Improve customer satisfaction
As per the service standard, 30% of the service calls can be solved on phone by the help desk team. This can be possible if they are equipped with the updated Help desk knowledge base. Resulting in higher customer satisfaction with low downtime.
The Field Technical team can solve many complex problems on the field with the help of the knowledge base on their mobile apps. They can perform most of the work without disturbing their senior technical team leader. Increasing confidence and thereby improving customer satisfaction.
Finally, Improve first-time fix rates resulting in happier customers.
Customer service knowledge base software for Customers.
Exceptional service calls require extraordinary knowledge, and AntMyERP knows that. Hence, our Customer Service Knowledge Base Software has the right features every enterprise needs to ensure splendid customer service.
Your customer logs a service call after your support office hours and now needs help. You can give him the self-help tools of our Field Service Knowledge Management tools via his customer login portal.
With our customer login portal, he can log service calls, see the steps to solve his problem, take action and can solve the problem. Resulting in his happiness and more loyal customers.
Checklist for implementing customer support knowledge base
Take a look at your customer support logs and identify the most frequent inquiries that your team receives and than define the scope of your knowledge base
Develop a plan for creating content that addresses the questions and issues you identified in step 1. Make sure the content is clear, concise, and easy to follow.
Organize your content in a logical and intuitive way, using categories, tags, and search functionality to make it easy for customers to find what they need.
Promote your knowledge base to your customers through your website, social media channels, and customer support interactions. Encourage customers to search the knowledge base before reaching out to your support team.Train your support team: Make sure your support team is trained to refer customers to the knowledge base when appropriate, and that they know how to update and maintain the content.
Monitor usage and feedback to identify areas where the knowledge base can be improved, and make updates as needed. Continually update and improve your knowledge base over time to ensure it remains relevant and helpful to your customers.
FAQ on customer support knowledge base
A customer support knowledge base is a centralized repository of information that provides customers with answers to common questions and issues related to a company's products or services. It typically includes articles, guides, and other resources that can help customers troubleshoot problems or learn more about the company's offerings.
By providing customers with quick access to relevant information, a knowledge base can reduce the number of simple inquiries your support team receives, freeing up time to focus on more complex issues. It can also help improve response times, build customer confidence, and improve overall satisfaction levels.
Your knowledge base should include information that is relevant to your products or services, and that addresses the most common questions and issues your customers face. This might include step-by-step instructions, troubleshooting guides, FAQs, and other resources that help customers find the answers they need.
You can promote your knowledge base through a variety of channels, including your website, social media accounts, email newsletters, and customer support interactions. Make sure to highlight the benefits of using the knowledge base, such as faster response times and easier access to information.
You can measure the effectiveness of your knowledge base by tracking metrics such as the number of inquiries it deflects, the number of views and clicks each article receives, and the overall satisfaction levels of your customers. Many knowledge base software tools also include built-in analytics and reporting features that can help you track these metrics over time.
Yes, a knowledge base is scalable and can grow as your business grows. You can add new articles and resources to address new products or services, and you can also update existing content to reflect changes or new information. This can help you provide ongoing support to your customers without adding additional headcount.
Go Up