Service ERP for
HVAC Industry
Your HVAC business has to go through multiple business processes in a day to help you. With AntMyERP, you can have the best software for HVAC companies to streamline different aspects of your service and customer relationships. You can explore new perspectives on transforming your HVAC business operations with our potent ERP tool.
Customer, Lead, Quotation and Contracting
Easily create your customer database to give you in-depth customer insights.
Our software for HVAC business also helps you to create and manage your leads and follow those leads.
If the Leads are qualified, easily give a different type of quotation from the inbuilt standard quotation format. Our software for HVAC business can manage your CRM Sales, AMC and Rental business. You can easily manage the different versions of your quotation with our version control and approval systems.
And finally, convert the lead into the proforma invoice and contracting by digitalizing your customer agreement into our systems for future records.
Sales Order, Dispatch, Servicing and Auto Invoicing
Once the order is won and contracting is done in the system, your sales team just have to create the sales order in the best software for HVAC companies to give insights about the order to their counterparts. The Logistics and Purchase teams work closely to ensure that the order is executed properly giving clear visibility to the sales team about the stage and status thus streamlining operations.
Once the material is dispatched and delivered, your own software for HVAC business will intelligently log the service tickets and auto-assign them to your nearest service technician for installation.
The billing department can still sip the coffee as the auto invoice will be done by your own software for HVAC companies. It's that simple.
Field Service Management for HVAC Industry
AntMyERP is the best HVAC Field Service Management Software as it integrates all the service management modules together along with other business processes. The best HVAC service software will help you to manage your customer service along with technicians by following standard HVAC business practices.

AMC Management
AntMyERP is known for its AMC Management software for the HVAC industry. AMC management is only possible when we integrate all the service modules like Field Service, Help Desk, Service ticket management, Remote Call Assistant with Root Cause Analysis, defective spare parts return management and many more.
Get notified of all the AMC renewals of your client in advance. Our HVAC Service CRM software will give you every insight into managing your annual maintenance contract for your customer

Installation and Preventive Maintenance
Our Field Service CRM for HVAC comes with in-depth service management tools. Installation and preventive maintenance of HVAC devices play a vital role in customer satisfaction.
With our Field Service Management software you can easily manage your service calls either with your own service engineer or from your service partner engineers during the peak months of summer.
Never miss your preventive maintenance service tickets with our Auto PM call logging and assigning with our time-based PM modules

Spare Parts & RMA
The profitability of your HVAC business is depended on your spare parts management along with defective returns. If your organisation does not have these two processes in place you will lose much money, which will finally sink your business ship.
Our HVAC spare parts management system comes with advanced spare issues to field technicians along with the handover of the asset to manage your service calls.
RMA with defective return gives you real-time visibility of the defective you have to get back from a field technician, service partner or the customer.
Inventory Management with Bundling
With our HVAC Inventory management system, you can easily manage all your inventory i.e without a serial number or with a serial number. you can manage your product in three ways like without a serial number, with an OEM serial number or with your own. serial number.
Our inventory management software for HVAC helps you to manage your inventory along with your standby assets in a real-time location.
You can track the movement of your inventory and can also find the profitability of that inventory.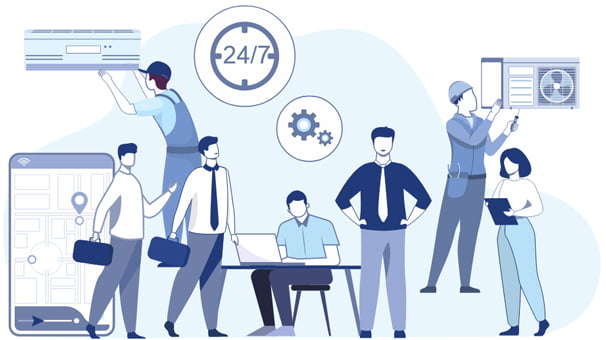 Field Technician are the backbone to HVAC Industry
Technicians are the key to the HVAC field service management business. Empower them with the best Technician Mobile Apps of AntMyERP to manage the service tickets of your customer
You can track your technician's LIVE location and also evaluate their history location for all those service calls
Your technician doesn't have to make the distance expense voucher manually and your accounts department doesn't have to approve and manage them manually. thanks to our Auto Distance Expense Voucher for Technician Service Tickets
Your field HVAC technician can manage your core HR functions like Attendance, Leave and salary from their mobile apps.
Go Up