Service ERP with
AMC management software
An intelligent  AMC Management Software like Ant My ERP can aid enterprises when it comes to managing multiple devices, spare parts, and engineers at the same time. The Ant My ERP dashboard displays information about all the Annual Maintenance Contract dues between the client and the vendor, thus making the lives of AMC managers easy.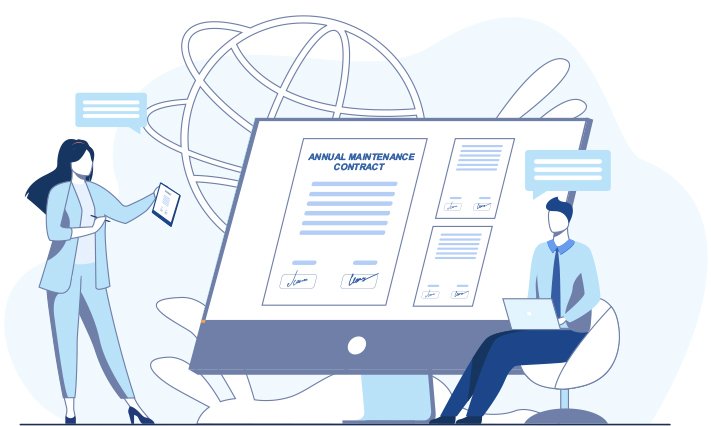 Comprehensive and Non- Comprehensive AMC Management
Under the Comprehensive Annual Maintenance Contract, the vendor bears both the cost of spare parts and the labor involved in servicing. Under the non-comprehensive Annual Maintenance Contract, the vendor only bears the cost of the labor involved in servicing, whereas the cost of spare parts is borne by the customer. 
Nominal and affordable rates are provided along with the timely Preventive Maintenance to  Keep up the authenticity of spare parts. In addition, Service ERP also ensures in getting the Service engineer support on prompt notice with the aid of Technician mobile Apps Service which in-turn provides a  peace of mind for the customers.
Warranty & Service Support
Experience the most sorted experience of warranty and service support with Ant My ERP's AMC Service Management Software. From assigning tickets to the field engineer, tracking the performance action on tickets, monitoring the status of service tickets, and maintaining a history of service log to getting customer feedback, do everything at the one-stop digital location.
Expense Management & Auto Invoicing
Cut short the endless time and money getting wasted behind manual expense calculation and invoicing of the vendors and customers. With Ant My ERP's AMC Management Software, enjoy Automatic Expense Management based on complaints and computerized invoice generation after resolving each service ticket.
Revenue and Service Traceability
The AMC Service Management Software features a revenue traceability option through which you can check the here & now profitability of the device. There is no manual way to track devices that cause you hefty repair costs compared to return on investment. The software empowers you to identify any loss-making devices from the customer's or vendor's side so you can eliminate them to amplify revenue. 
From how many devices you have served to date, the total count of services that happened for every device, and the number of engineers sent for servicing a particular device to the total cost incurred, you can fetch data on everything using Ant My ERP's AMC Management Software.
Go Up