Most Comprehensive
Field Service Reporting Software
AntMyERP gives you a meaningful and insightful reporting structure, which helps you improve your current service management process based on your AMC contract type (Comprehensive/ Non-Comprehensive). You can see tickets from clients, their status, the engineer working on the tickets, the parts used during service, the defective parts details, and the engineer's performance.
Field Service Management Software with Real-Time Reporting
Field service reporting provides real-time data on team productivity and progress, enabling managers to identify and address issues as they arise. Cloud-based field service reporting solutions take this to the next level, providing access to data from anywhere with an internet connection.
A few of the real-time reporting which add great value to the managers are Call Volumes, SLA Breached, Spare Parts Claimed, Time to the site, and many more
With the help of the real-time data of field service, managers can take proactive decisions to improve service efficiency and thereby increase customer satisfaction.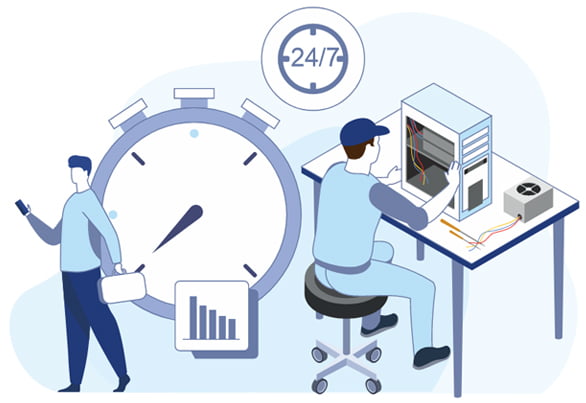 Mobility plays a crucial role in field service reporting.
AntMyERP comes with powerful Technician Mobile Apps which gives the power in the hand of the technician to perform their work without much dependence upon the back office teams and the senior technicians.
Mobile technicians can claim spare parts and also if they need any technical guidance they can refer to the knowledge-based pertaining to that particular problem.
Due to mobility, we can easily calculate these critical metrics like Travel Time, Time to site, Distance Travel, Distance-based Mileage Expense Voucher, and many more.
Our mobile application saves cost by prompting the technical to view the next Preventive Maintenance due and help them to close the same on the same call.
Manage your field service technician performance
Live tracking isn't just a convenience; it's a game-changer for your business. By optimizing your workforce and ensuring that your technicians are where they need to be when they need to be there, you can provide exceptional service to your customers and boost your bottom line.
Field Engineer LIVE Tracking with History
Imagine the frustration of not knowing where your field service technicians are or if they're completing their tasks on time. This can lead to missed appointments, angry customers, and lost revenue. But with live tracking, you can put these worries to rest.
But live tracking isn't just about profits and efficiency. It's about the safety and security of your team. In an emergency, you need to be able to quickly locate and assist your 
Defective Spare Parts with Technician
As a business owner, you rely on your technicians to provide top-notch service to your customers. Unfortunately, sometimes defective spare parts can slip through the cracks and go unnoticed. This can lead to a loss of revenue and customer trust.
Our Field Service Management Software with Real-Time Reporting solves this problem by informing the management as well as the technicians which defective spare parts they have to return for further action.
Compare Field Service Technicians
Our report allows you to easily compare the performance of two or more technicians, giving you valuable insights to help make informed decisions.
Not only does our report provide you with data-driven metrics, but it also allows you to track your technicians' progress over time. By comparing their performance with their peers, you can identify areas of strength and weakness, and implement targeted training and development programs for your technicians.
Important Service Performance Metrics for field service reporting
The first-time fix rate measures how often a technician is able to fix a problem during their first visit. This metric is critical because it directly impacts customer satisfaction. When you have a high first-time fix rate, you can reduce customer downtime, increase loyalty, and boost your reputation.
Response time is the amount of time it takes for a technician to respond to a service call. This metric is crucial for ensuring that your customers receive timely service. When you have a fast response time, you can increase customer satisfaction and prevent customer churn.
Resolution time metrics measure the time it takes to resolve a problem or issue, ensuring efficient service management and customer satisfaction.
Downtime is the amount of time that your customers experience service disruptions. This metric is important because it directly impacts customer satisfaction and loyalty. By tracking downtime, you can identify areas for improvement and reduce the impact of service disruptions on your customers.
The technician utilization rate measures how much time your technicians are spending on service calls. This metric is important because it helps you optimize your workforce and increase profitability. When you have a high technician utilization rate, you can ensure that your technicians are working efficiently and generating revenue for your business.
Future Trends and Forecasting
Predictive field service reporting is becoming increasingly essential in staying ahead of competitors and driving business success. By embracing future trends and forecasting, businesses can transform their operations to become more proactive and efficient. Predictive analytics allows for predictive maintenance, enabling service technicians to identify issues before they occur, reducing downtime and improving customer satisfaction.
By using our customized tools, businesses can optimize their operations, streamline processes, and deliver better service, ultimately leading to increased profitability and customer loyalty.
Don't get left behind – start leveraging future trends and forecasting in your field service reporting today. Talk to us for a customized solution on this.
What are the different types of Service Reports you can expect from AntMyERP
Measure service level agreement (SLA) compliance and identify areas for improvement
Optimize equipment utilization by tracking usage patterns and identifying underutilized assets.
Monitor the status of returned merchandise authorization (RMA) requests for timely resolution.
Track open service tickets and prioritize workload based on urgency and impact to customers.
Monitor service ticket volume, resolution times, and customer satisfaction levels.
Optimize spare parts inventory levels and track usage to ensure timely replenishment.
Identify and address common product defects to improve customer satisfaction.
Track loaned equipment and repair progress to ensure timely return and resolution.
Schedule preventive maintenance based on usage patterns and reduce downtime.
Monitor service partner performance and track service quality to maintain customer satisfaction.
Go Up