Service ERP for
Software for Fire and Safety
Identify the key to resolving the management bottlenecks in your fire and safety equipment management business with AntMyERP. We deliver customized Service ERP Software for Fire and Safety industry to simplify the complicated business processes which keep holding you back. Leverage the latest features suited to your industry and business objectives to fuel your business growth.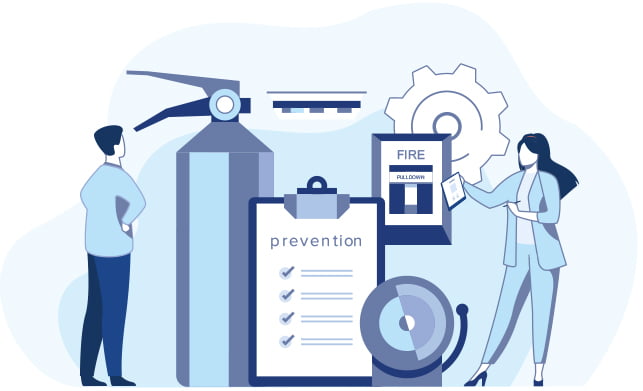 Flexible Equipment Management
The Spare Parts Management software in our service ERP solutions serves you in maintaining control over the inventory. You can track the spare parts and manage the used and defective spare parts using a single click. We also ensure the facility of tracking equipment health based on its location.
The accurate information pertaining to devices also helps you develop a formidable control over your supply chain. You can also make the most of our Vendor Management features for managing the contacts of manufacturers and vendors in the fire and safety industry.
AntMyERP in Fire and Safety
AntMyERP is your Service ERP Software for Fire and Safety industry and delivers a competitive advantage to your business. With us, you capitalize on the efficiency of Preventive Maintenance and Contract Management like never before. You can also work on new strategies for improving service engineer productivity through our Technical Mobile App feature.
Preventive Maintenance
Our integrated software for Field Service Management for Security, Alarm and Fire Prevention Systems gives the comfort of managing your Preventive Maintenance tickets effortlessly.
Our software assists you in generating automatic PM tickets on the basis of customer contracts alongside the flexibility of creating manual tickets. You can also find the option for assigning Preventive Maintenance Tickets and uploading reports in bulk and save a lot of time from manually creating the entries.
Contract Management
We offer specialized AMC Management software with our Service ERP Software for Fire and Safety industry to manage your comprehensive and non-comprehensive contracts efficiently.
The innovative feature of tracking device profitability according to its serial number aids you in deciding whether devices in contracts are profitable or non-profitable. Track the costs incurred by your business for facilitating compliant services to customers according to the contracts.
Enhancing Technicians' productivity
Our Service ERP Software For Fire Protection Company not only aids you in tracking your devices and contracts, but also your field engineers. We serve you in making the most of features such as Live Attendance Marking and Expense Vouchers management in the Technical Mobile App.
You could assign service tickets directly on the app and monitor the status of each ticket. Our Technician Mobile App also helps service engineers report requests for parts required in service complaints.
Customer support System
We make better transparency in your business with accurate and timely service performance reports and insights. Set your own performance indicators and measure how your business is moving forward toward your goal.
AntMyERP gives you the added value advantages of leveraging data and automation according to your industry dynamics. Our support team is available 24/7 to guide you through every step of your ERP implementation, familiarizing you with the solution alongside resolving any queries regarding our Service ERP solution.
Go Up