Comprehensive Service CRM
Service Maintenance and Repair Management Software
Repair management software is a digital system that helps your business run its preventive maintenance and field service operations more smoothly.
The software has a lot of features that make it a one-stop shop for managing repairs and maintenance. Some of these features are scheduling, dispatching, managing inventory, keeping track of work orders, and analytics.
AntMyERP has an integrated system built in, such as CRM Sales, Service, Inventory, Assets, and Accounting, that can tell you how healthy your business is.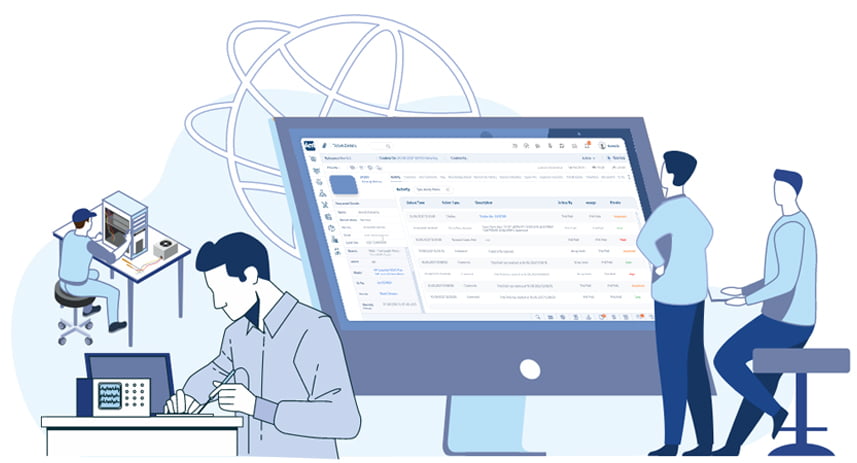 What is repair management software?
Any business that involves assets, whether hardware, IT tools, audio-visual devices, or fire equipment, is incomplete without repair management. In extending repair management services, an enterprise has to collaborate with vendors, establish a system of timely pickups from customers, and maintain a frictionless flow of actions in between. 
But with limited resources, outdated technology, and administrative boundaries, an organization fails to deliver the best repair management experience to its customers. The good news is that advanced Repair Management Software can take away all these troubles, streamline servicing in order, and enable technicians to complete repairs on or before time. 
Benefits of Installing a Service And Repair Management Software in Your Enterprise
Outstanding after-sales services guarantee customer loyalty and, in turn, win the hearts of your customers. Discover the core benefits of a Repair Management System in favor of your enterprise and engineers:

Repair Task Organization
Manual records of repair tasks can lead to losing crucial customer information. Instead, a Service And Repair Management Software can help you organize all the repair tasks date-wise effortlessly. 

Real-time Updates
Can managers keep in constant touch with technicians on the field for repair service over a call? No. With that said, Repair Management Software allows higher-ups to keep track of all technicians involved in a repair service and its real-time status. 
Resolution Time Improvement
Raising repair issues via paper mediums or emails can cause unwanted delays in resolution. On the contrary, Service And Repair Management Software notify the vendor when a repair service is requested by the customer. Hence, it improves resolution time a lot. 
Businesses which can use Repair Management Software.
Repair Management software is a useful tool that can be used in many different fields. Here are some fields that can benefit from using software for repair management:
"Happier customers lead to higher profits. By offering exceptional services using Ant My ERP, establish a relation of transparency, trust, and truth between you and your customers."
Why Ant My ERP for your Service and Repair Management?
Using Ant My ERP, create a unique service ticket for every repair request individually. Fill in the necessary fields, including name, ticket number, service location, inventory needed, point of contact, and service status. Allow your service managers to get 360-degree visibility into repair management through our comprehensive digital solution. 
Create, maintain and record all the repair service entries on Ant My ERP's digital repair management space. Access the repair history immediately at the time of invoicing for a customer. Enjoy auto invoicing and expense management feature add-ons and make your repair operations get going smoothly. 
Get rid of the tedious task of service assigning with Ant My ERP's comprehensive Repair Management Software. Assign repair services to the available technicians and schedule their field visits from the platform itself. Gift yourself a bird's eye view of the service scheduling of each technician and assign them a new repair task according to the one's availability. 
The Ant My ERP's repair management app is nothing but a miracle. With it, you can empower your service teams to manage their daily tasks efficiently on the go. Generate prompt alerts to managers about the new repair service requests, allow them to look at the technician's availability, and notify technicians about the recent repair service task assigned to them. 
No more delay in resolving customer's repair requests with Ant My ERP's Service And Repair Management Software. Quickly assign field technicians to the repair service work, dispatch required inventory for the service, and update real-life status from a single destination. Extend 360-degree support through the repair management portal to customers who are concerned about their repair requests and make them feel valued. 
FAQ on service and repair management system.
Repair management software is a digital tool that helps businesses run their repair and maintenance operations more efficiently. It gives businesses a single place to schedule appointments, send technicians to jobs, keep track of work orders, and handle inventory.
By using repair management software, operations can be streamlined, administrative work can be cut down, response times can be cut down, and customer satisfaction can go up. The software also gives businesses real-time information about their repair operations, which helps them improve how they do things.
Some of the most important things that repair management software does are scheduling, dispatching, tracking work orders, managing inventory, and doing analytics. With these features, businesses can improve their repair processes and run their business better.
Repair management software helps businesses save time and money by automating and streamlining the repair process. It cuts down on administrative work, speeds up responses, and gets rid of mistakes. This saves money and makes the business run more smoothly.
Yes, repair management software can work with other systems, like accounting and customer relationship management (CRM) software, to give a business a complete way to run its operations.
Most software for managing repairs is made to be easy to use and understand. It usually comes with a variety of support and training tools to help businesses get the most out of the software.
Yes, repair management software can be used in many different fields, such as Managed IT, Managed Print Service, healthcare, retail, and manufacturing. Repair management software is useful for any business that needs to keep track of repairs and maintenance.
To choose the right repair management software, businesses should think about their specific needs, such as the size of their business, the types of repairs they do, and their budget. They should also compare the features, customer service, and reviews of different software providers.
Go Up