AMC
Management
Your Own AMC CRM Software
Automate and Manage your Contracts, Warranties, and Profitability of your AMC business. Gain visibility and control over your AMC devices and avoid free labor and spares for out-of-warranty devices. Very easily know your Comprehensive and Non-Comprehensive Contracts to render appropriate Field Service to Customers.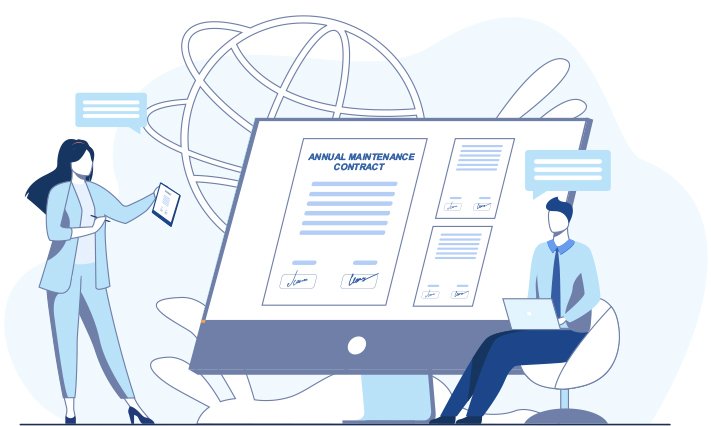 Comprehensive Annual Maintenance Contract
The AMC CRM Software helps to manage your AMC devices. Track your device profitability and contract profitability with an automated and integrated Service CRM.
You can easily create AMC contracts from the CRM Sales module. Specifically, define your customer contract as Comprehensive or Non-Comprehensive. These contracts prove beneficial while attending any service complaint calls.
You save your time and effort to manage the AMC customers with the use of the ERP software that gives visibility of the AMC devices that are out of warranty, hence labor and spare consumption is appropriately managed. You get notified of all customer contracts getting expired. AntMyERP effectively assists in the Assets Management for the AMC business model.
Learn More About AMC Management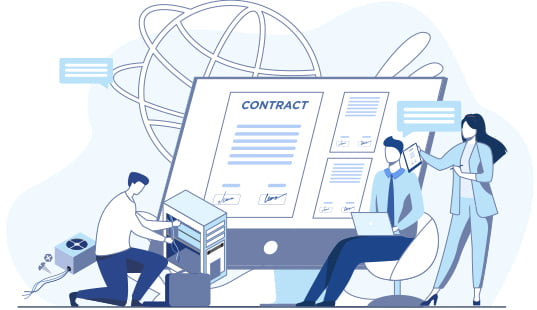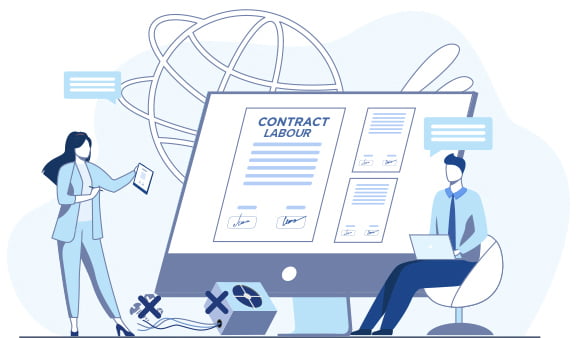 Non Comprehensive Annual Maintenance Contract
Track and manage your AMC devices with the AMC Service CRM Software. You need not worry that your employees forget to charge customers for the NC service.
Managing AMC devices for service complaint calls is easy with  AMC Service CRM Software. It is easy to locate devices under the non-Comprehensive category. You can ensure proper Spare Parts Management with the AMC CRM. You charge and get paid for your services without struggling to find out the AMC contract type.
The Service ERP helps you work fast and smart while dealing with complaints from the customers. You can now manage your core business very efficiently and track each activity done by the service engineers through our technician mobile app facility.
Real Time Profitability Report
Grow your AMC Business with our AMC Service CRM. Increase your Satisfied Customers with one of the Best Service CRM. It will help you manage your Customer's Contracts' Profitability, Preventive Maintenance and Warranty Management for your equipment or devices.

Contract Profitability
Manage multiple customer contracts at multiple locations with our Service ERP. Service being the core of your business, get streamlined with proper Contract Management in the CRM Sales. We help you gain visibility of contract profitability for different customers. The AMC CRM helps you analyze the cost you incur while offering complaint services to your customers with respect to the contract commercial you have with them. We help you map multiple Service Level Agreement (SLAs) parameters with a customer's contract, which helps you manage service calls.

Invoice Profitability
Get insightful reporting on your AMC invoices profitability in the finance. You can easily analyze the profit margins on your contracts and bills. You get visibility on the actual contract billing and the spare parts you bill your customers. You have insights into every customer's device profitability, where you can analyze the cost, you put in to service the customers. It could be the preventive maintenance or parts support that you provide them. You can track the AMC contract expiration, with respect to billable and non-billable services you offer.

Sr. No. Profitability
Now tracking the serial number profitability of your AMC devices has become easy with the field service management software. You can track the service Complaint calls for a particular serial number and the spare parts you change. You can easily analyze the cost you put in an AMC device, you provide services to. You can have each serial number-wise profitability, which helps you decide whether a device is profit-making or loss-making for you. Hence you can also suggest to your customers the same, and ensure a happy AMC customer service in CRM.
Call History
The AMC CRM helps you track the CRM activities for all your customers. Track the AMC devices for which you provide service support. Always have a track of all service complaint calls attended for your AMC customers. Now have the history maintained for each spare part consumed for all devices. You can view the service visits done by your engineers/ technicians and also track the Preventive Maintenance your engineers provide.
The entire call history for each device is maintained in one place. Device profitability can be analyzed along with contract profitability. The call history analysis helps you decide whether the AMC contract is actually profitable or not. As you have complete visibility of your technician's time, the spare parts used and the number of service visits they make to a particular device. The AMC CRM Software makes it easy to manage the AMC business.
Go Up