Grow with our
Best IT Rental Software
With emerging demands, IT rental companies face hardships in managing their rental business. If you are the one amongst them, you would know the struggles we are talking about. From keeping the count of devices and tracking them to ensuring profitability from the rental operations is quite a challenge. However, the latest invention of IT Rental Software has proved valuable to IT rental organizations in many ways.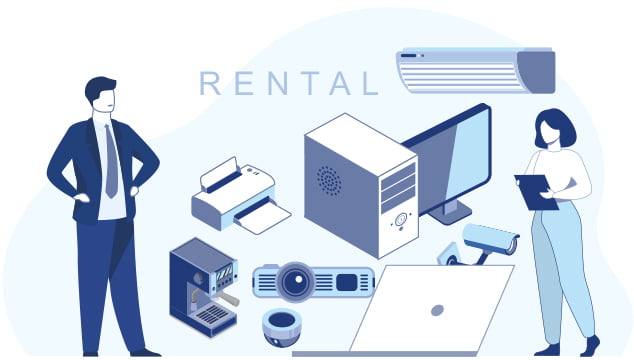 Customer & Vendor Management
Manage and boost your Rental business with Ant My ERP. A One-stop software solution for your business needs. Improve your device's traceability with an automated business solution to increase performance with reduced errors.
You can easily accept assets on rent from a vendor and rent them further to another business in need while allowing Ant My ERP's IT Rental Software to manage the rest of the things for you. Whether you are renting out your assets to corporates or retail customers, Ant My ERP's IT Rental Software will help you control everything in between.
Rental Proposal/ Quotation
Right now, probably, you invest way too much time and effort crafting customized price quotations for each prospect for your rental business. But with our smart template on the software, you can prepare a personalized proposal just by filling in a few details. The next thing you do is download it and send it over to your potential client over email. Fewer hassles, isn't it?
Asset Tracking
Our consolidated IT Rental Software is more intelligent than the average spreadsheet. Practically, it is impossible to keep the manual records of thousands of rental devices on excel sheets.
It consumes more time and effort. Instead, our software lets you record each rental device and access information about each of them by simply adding its serial number to the software.
Inventory & Stock Management
Track all your rental inventory at one destination, Ant My ERP's smart software. You can track the total count of inventory customers held individually & collectively and the geographic location of each inventory. Plus, you can keep an all-time history of inventory stored at your warehouse and inventory in possession of your customers on our cloud-based IT Rental Software.
Service Management & Automated Invoice Generation
Apply Ant My ERP to your rental business operations and efficiently track the number of times you have served a rented device. With that said, get insights into service charges and related profitability from every single rented device.
Additionally, enjoy the automatic invoice generation feature on Ant My ERP's IT Rental Software and send paperless alerts humbly to your customers each month. Manage Your Rental Business Using Our Software That Does From Quote To Invoice And Everything In Between!
Go Up