A Simplified Solution to Employee Management:
Timesheet
The HR module's timesheet is an essential part of our system. The timesheets for employees are important since they help to regulate and monitor employee working hours. 
AntMyERP's employee time management system offers efficient time-tracking features that save a significant amount of time, help streamline projects, and boost performance. Timesheet management is incredibly easy and cost-effective for everyone, from regular employees to their managers and supervisors,  as it is digitalized, versatile, and entirely automated.
Timesheets have a variety of roles to play for all organizations, such as automating payrolls, calculating shift time, tracking projects, and keeping record of the overall number of hours employees work in a day.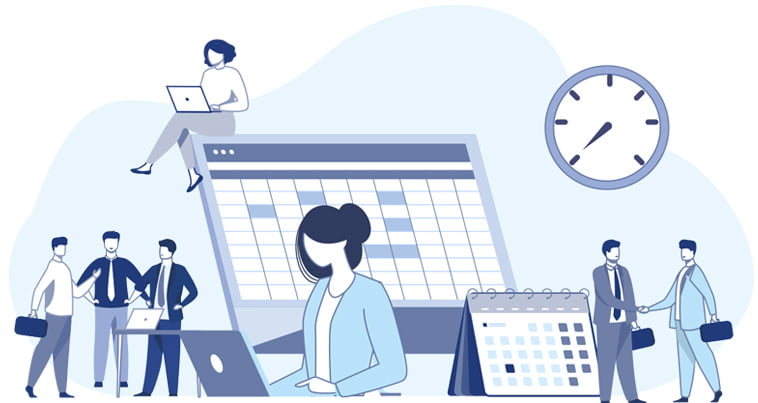 Insights into Employee Activity and Productivity
AntMyERP's timesheet management software analyzes and records the daily activities and productivity of your workforce. Moreover, it also offers a comprehensive set of tools to help you monitor employee activity and performance. Our user-friendly tools enable you to further optimize productivity by analyzing performance timing, both at peak and low.
Your employees can easily log their hours and tasks in the timesheet, providing a detailed overview of their daily activities.
Easily create and manage meetings, both internal and external, with our best timekeeping software. Timesheet management allows you to create a meeting ticket that automatically gets added to your daily timesheet records.
Learn More About Timesheet
Employee Monitoring
AntMyERP's best timekeeping software also greatly supports proper task allocation, which eliminates process delays and inefficiencies that kill productivity. It helps you to make the best use of every resource. 
Timesheet management software helps in measuring the amount of time your employees invest in their work on a daily basis, particularly for your field service engineers. Easily review the submitted data to determine the quality and quantity of their work. 
Create an ideal balance of time, work, and human resources with our project time tracking software. Easily track the daily activities of your resources and the time spent on each task.
The Dynamics of Timesheet Management
Timesheets are invaluable to organizations today since they include a complete breakdown of tasks as well as the amount of time each employee invests in their daily tasks.
Enhance Project Management
Project management is at the core of any business, and timesheets are one of the most indispensable tools for it. Our project time tracking software helps you track the time spent on a project and also identifies the best resources for any future projects depending on their performance and output.
Additionally, it works extremely well in providing insights about employee performance,  enhancing efficiency by assigning the most suitable members to their respective areas.
Simplified Representation with Mobile Accessibility
Embrace the ease of mobile accessibility and learn how effortlessly your employees can update their timesheets from anywhere. With AntMyERP's timesheets for employees, gain real-time data and freedom in today's work environments.
The data input format is also quick and easy and works on multiple devices, like mobile phones and systems.
Real-Time Data Processing
You can now take full advantage of the strict adherence to online timesheets to identify areas for project or business operation optimization and improvement.
The true benefit of our employee time management system is that it offers a simple way to determine what the team is working on at any given moment and whether or not that work is being completed correctly.
Save Time with Our Efficient Timesheet Management System
Uncover areas where your time is being wasted by utilizing our timesheets for employees. With its help, you can track down the tasks that take longer than necessary and then figure out how to make better use of your time.
Quickly gain access to information such as In/Out time, attendance, and reports. You can also export all the information about the timesheet to a single file. Additionally, you can also check overtime details in the dashboard, which will calculate your compensation for those extra hours automatically.
Go Up